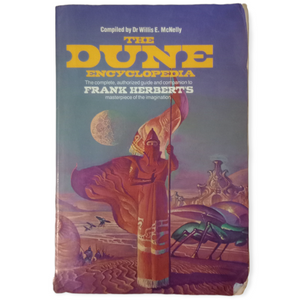 SOLD TO ROGAN - AWAITING PICKUP

The Dune Encyclopedia (1st Edition)

Compiled by Dr Willis E McNelly

Paperback, 532 Pages, Published 1984

ISBN-10: 0-552-99131-7 / 0552991317
ISBN-13: 978-0-552-99131-5 / 9780552991315
The definitive companion to Frank Herbert's Dune chronicles features articles by both scholars and fans that cover diverse facets of the history, culture, religion, science, and people of Arrakis

This book has been well loved - dog eared front cover and foxing inside cover.   Spine is good and the book is solid.   I'll have more photos to upload later.